BULK PURCHASING - TRIP PLANNERS beta
CLOSE PAGE TO RETURN
TO THE PRODUCT LIST
Dimensions: 8" x 10" (20.3 x 25.4 cm). Almost the same width as A4 but a few cm shorter in height.
Keep travel plans and memories in one place with this spacious logbook. Store four trips: one of up to 21 days, two up to 15 days and one up to 9 days.
Interior:
Each trip is split into three clear sections:
A Title Page with summary boxes for each day's major activity, plus a large space for maps and/or memorable images.
A Detailed Planner area with log boxes for accommodation and the daily schedule of activities, their duration, booking status and costings. (Calculate totals for any numerical entries, e.g. mileage, duration or budgets.)
A retrospective Travel Diary. One full page for each day with question prompts, rankings and plenty of space for personal reflections.
There are five Appendices:
Checklists for preparation and general packing, plus space to build lists for specialist holidays.
Maps of the world time zones.
Temperature data for 50+ North & Central American cities, 25+ European cities & further selected world cities.
A family travel quiz (useful for keeping little people happy!)
A password & address storage area for online bookings and general contact details.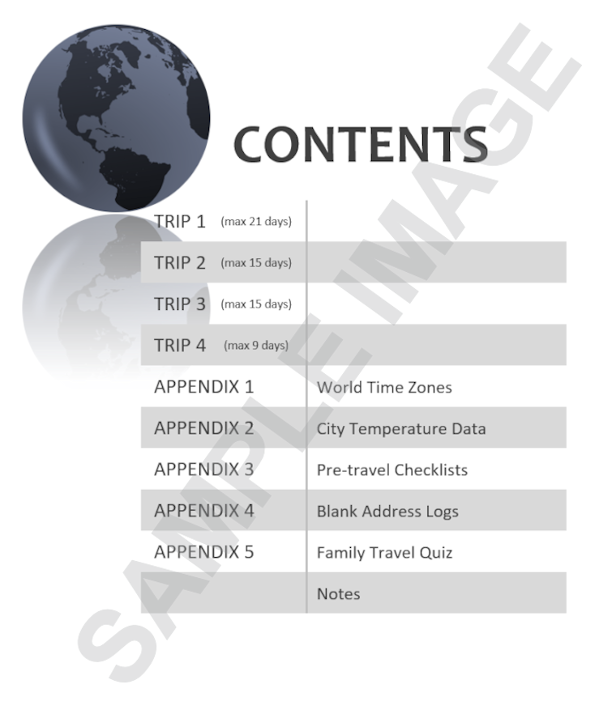 Main Pages
Title Page for Individual Trips