Over 340 positive reviews on our retail pages...
"Best thing ever!
Since showing my personal trainer he had been recommending to all his clients. Track everything &set a goal. Brilliant!!"
8" x 10" (20.3 x 25.4 cm). Almost the same width as A4 but a few centimeters shorter in height.
100 spacious daily records (image below). Log each item along with its weight, protein, fat, carbs and calories. To learn and succeed, record:
Time & place - when are the wrong foods eaten?
Sleep, energy & stress - does mood affect food?
Glasses of water - many people snack when actually thirsty?
Allergy symptoms - is a specific food a trigger?
Supplements / medicines - affecting appetite?
Fruit or veg - filling up on the right stuff?
Exercise - directly beneath the food log for a quick daily calorie balance
A spare column to track nutrients of interest, e.g. sugar or caffeine
Plenty of journal space each day
A Daily Personal Goal area
All Designs
Priced-for-Bulk $5.98
✔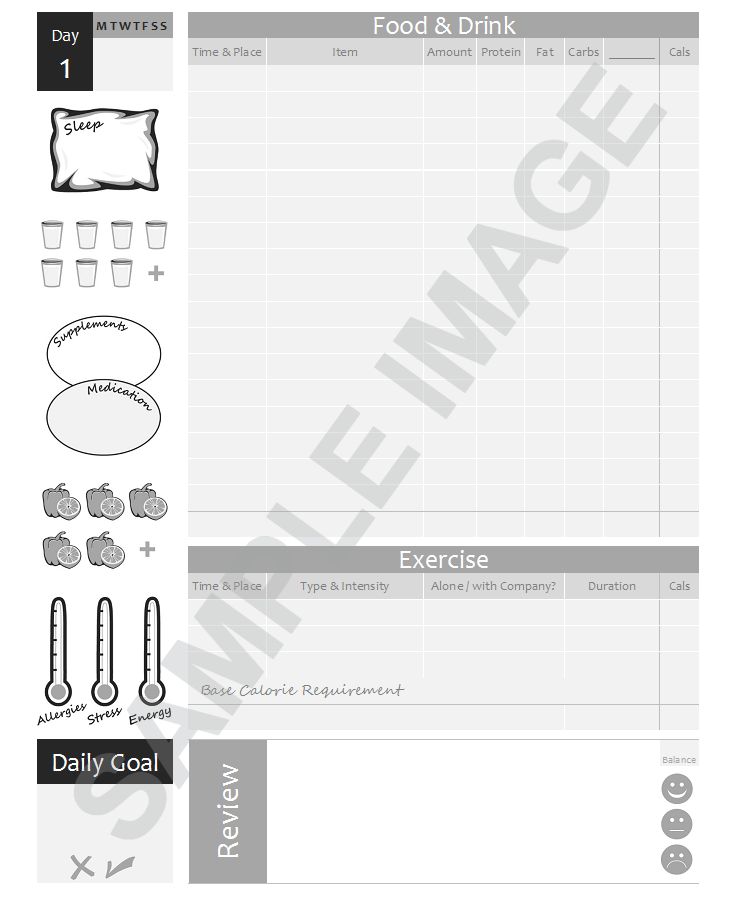 Charts for:
Calculating calories burned at rest and during different activities
Personal Health Statistics Tracking e.g. weight, waist & heart rate
Storing regular meals for quick reference