BULK PURCHASING - MONTHLY BUDGET PLANNERS beta
CLOSE PAGE TO RETURN
TO THE PRODUCT LIST
Please Note: There are NO pockets
Dimensions: 100 pages; 8.5" x 11" (21.6 x 27.9 cm)
Interior:
Each monthly log has four large pages and includes:
1) An Expenditure Tracker To build a clear chronological record of spending. All expenses are immediately allocated to one of 32 categories (including four blank ones for personal adaptation). These are laid out in numbered columns to make adding up at the end quick and easy. Entry rows for each item are wide to allow for descriptions and, with four pages allocated per month, there are plenty of rows, even for the busiest of months.
There's also space to log:
date of expenditure
whether a receipt was received
whether an item has cleared from the bank.
2) A Budget Facility The top row of the Expenditure Tracker can be used for setting monthly budget targets, by category. This budget row is directly above the monthly actual totals for ease of comparison.
3) Total Monthly Income & Outgoings Tables These allow for an at-a-glance review of what's having the biggest effect on the overall monthly balance.
4) A Calendar Useful for remembering items, e.g. bills, which clear automatically from the bank, but also good for anticipating large expenditures, such as vacations.
5) A To-Do Checklist
On the Front Page:
An Annual Roll-up Chart. Each month, bring forward the Total Income and Total Outgoings to the cover page. This allows for a review of all monthly balances and makes totting up annual totals an easy job.
A quick 'How to Use this Book' guide
At the back:
There are two Savings Logs. Each monthly Outgoings Table provides a facility to transfer some income to savings, which are logged at the back of the book. These could be used for any anticipated large expenditures, from college funds to cars, or to set up an emergency fund for unforeseen expenditures.
The First Page is an annual summary sheet
Data is brought forward to this page from subsequent monthly records
(see below).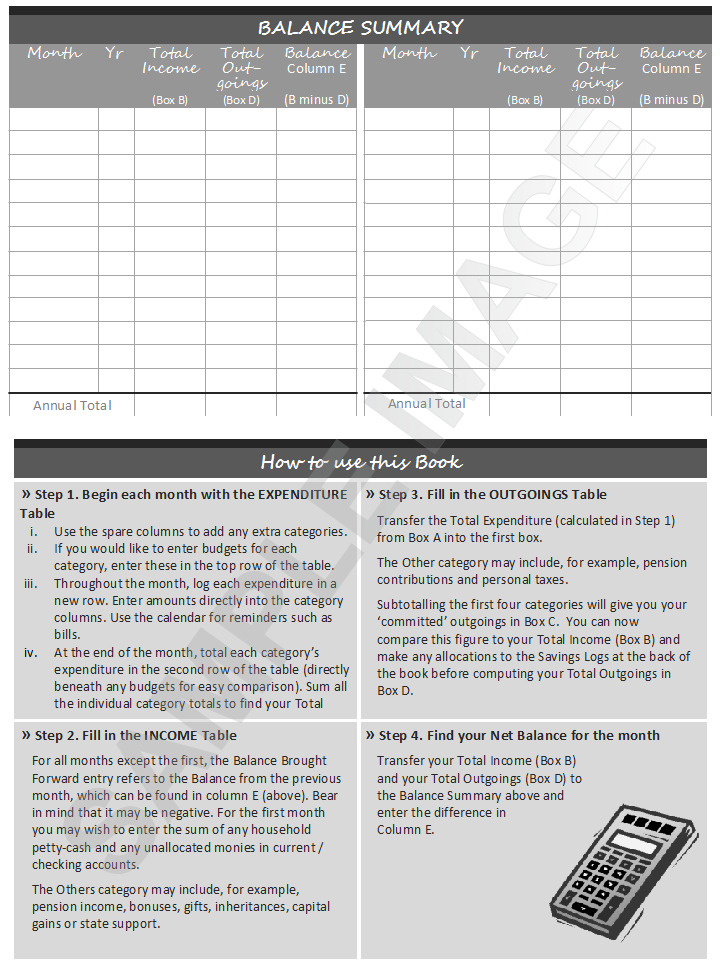 Main Monthly Budget pages
These consist of two, two-page spreads (scroll down for enlarged images of the individual pages).
Pages 2 & 3 ...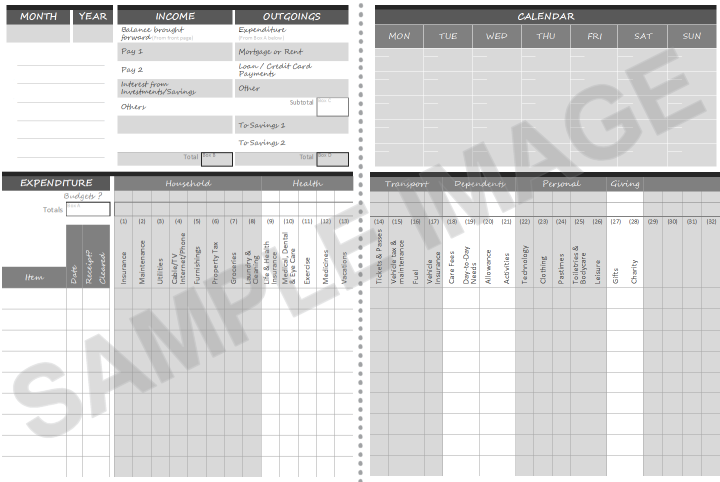 Pages 4 & 5 are just a continuation of the Expenditure Table...